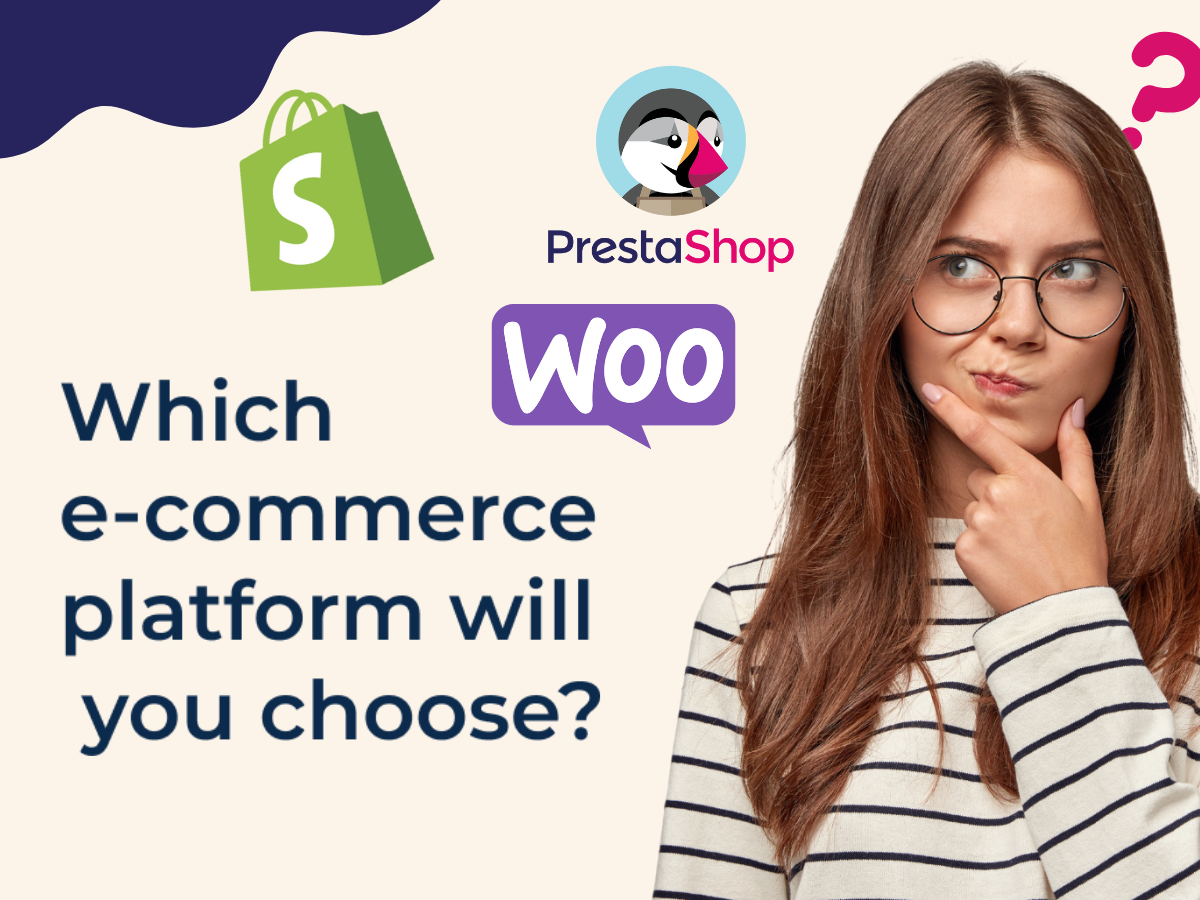 The decision has been made – you are starting your own e-commerce business. What's next? First of all you need to choose an e-commerce platform that offers you ready-made software solution, best for your business. There are many of them, so the question is – which one to choose?
E-commerce platforms differ primarily in functionality and price. Before you choose, answer the following questions: What do you want to sell and in what quantities? What is your budget? What functionalities do you need? Do you have IT support? Do you want to sell abroad?
SnapWear works with all of the biggest players on the market – Shopify, WooCommerce and soon – Prestashop. What can they offer you and why you should definitely consider to choose one of them?

Shopify. An Intuitive tool that conquered the world of e-commerce
This e-store platform from Canada reigns supreme with its simplicity – you don't need to have any programming knowledge, you can be an absolute layman in the world of e-commerce – you'll manage perfectly anyway. Shopify provides security, store maintenance and a support team, that will help you when you have any technical questions.
Shopify works on a subscription system – you use it by paying a subscription fee. You'll get a shopping cart, integration with payment and delivery systems, and the ability to run advertising campaigns. Not sure if Shopify is for you? Give it a try – you have a free two-week trial – a long time considering the platform is so intuitive that you're able to set up your store on it in just one day.

PrestaShop. Your 100% Free International e-shop platform

Do you aspire to bring your product to every corner of the world? You should definitely consider PrestaShop. It's a solution for bigger players with even bigger ambitions. The platform offers translation of store content into 75 languages and is currently used in 195 countries. Your customer will get the right information for the country they are in, including taxes, currencies, etc. Add to this the technical capabilities of this platform – they are virtually unlimited – it's an Open Source CMS, which allows you to modify the source code and develop the store as needed, with no limitations. And now the most important – PrestaShop offers its software for free, without any commission.

WooCommerce. A sales harvester that's great to run
You're probably familiar with WordPress – the world's most popular CMS for creating websites. WooCommerce is the plugin for WordPress website. What will choosing the famous duo give you? Ease of use. A huge selection of templates, which can give your store an individual look. Thousands of plugins and professional solutions, that will allow you to modify the functionality of the system. Solutions are free and paid, you choose what you can afford. Add to that the simple integration with popular payment systems and courier companies, and fact that WooCommerce perfectly copes with optimization for SEO. It's a powerful combination for your business.
Connect with Snapwear for free
Regardless of which platform you choose, we give you the ability to quickly and easily connect your store to our platform. Thanks to this, you will gain access to our print-on-demand and dropshipping offer. You will take care of designing and building your brand, and we will do all the rest for you. All orders placed in your store will go straight to our system. We will produce your custom-designed clothes and accessories and ship them to anywhere in the world.
See how to integrate your Shopify or WooCommerce store with Snapwer.pro
­