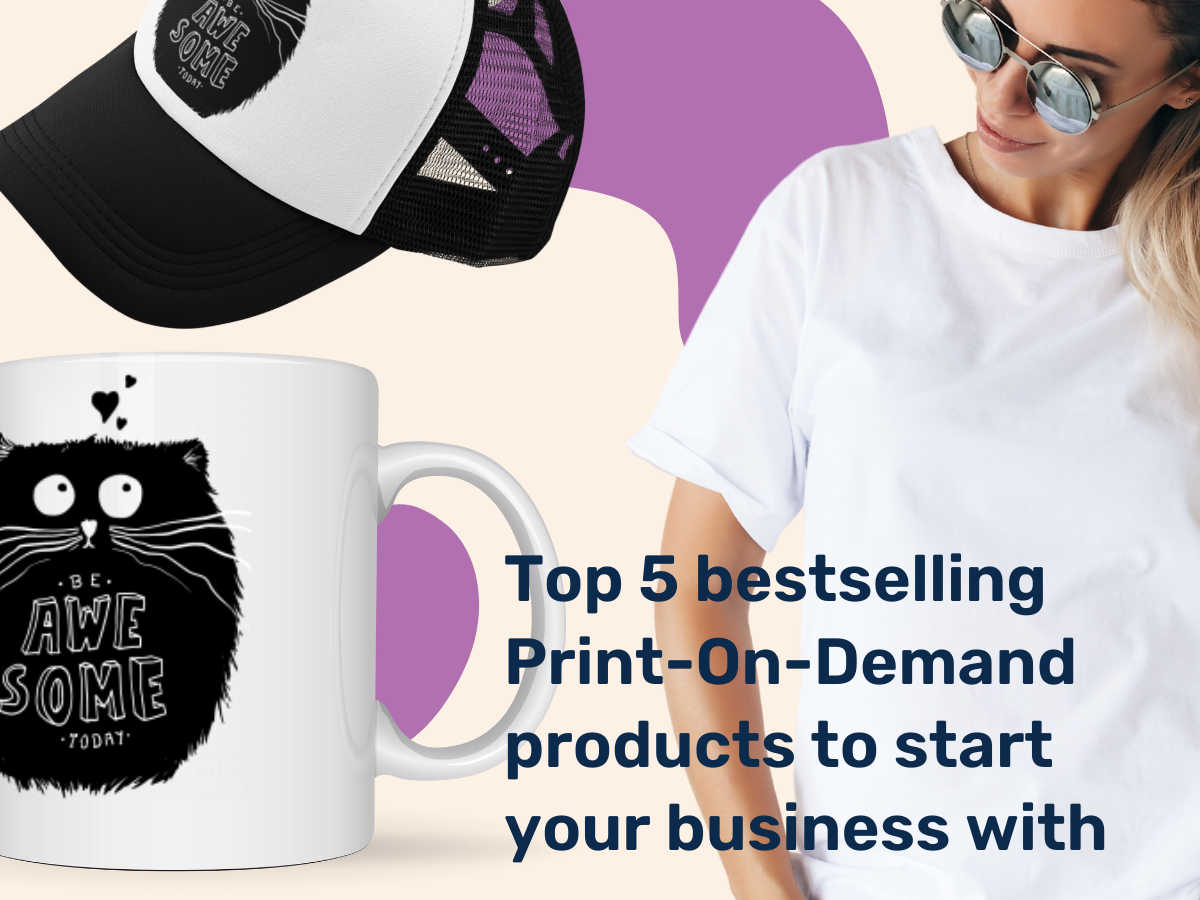 You're just starting your very first e-commerce business? Or maybe you already have your own online store, but you're looking for some new ideas to enrich your offer and increase your profit? Here is our top 5 best-selling Print-On-Demand products that you definitely should start with.
Print-on-Demand is a business model that allows you to sell your own collection of printed clothes and accessories, without any upfront costs and inventory. You just add mockups of products with your own designs to your store. They will not be produced until the customer makes a purchase.
Okay, but where to start? The choice of products that you want to sell is as important as the attractiveness of your graphics. In our catalog you will find a hundreds of various, high-quality products. Which one you should start with? It all depends on the customer niche you are targeting. If you run a store with mobile phones, it will be a natural choice to add cases for popular smartphone models to your offer. And if you have a store with things for children – e.g. children's bodysuits would be a great idea.
However, if you want to reach a wider audience and build an attractive offer based on the Print-On-Demand model, here are our recommendations, supported by real sales results – which products with prints sell best!
#1 T-shirts
Trends change from season to season, but a printed T-shirt never goes out of style! Let's admit – you can never have too many t-shirts in your wardrobe. T-shirts with graphics and slogans are a real bestsellers in the Print-On-Demand business. We love statement T-shirts that express us, these with colorful prints, logos and funny texts. A T-shirt with a print is a great idea for a gift or an original advertising gadget.
In our offer you will find the most popular models of classic T-shirts from top clothing manufacturers, including a real sales classic – Gildan 64000. What's more, you will find them at even 20% lower prices than our top competitors can offer! Particularly noteworthy is our range of eco-aware T-shirts from Stanley and Stella. They are of great quality and will help you build an environmentally friendly brand image. Do you want to create unique, fabulous collections? Go for an all-over print and make the colorful, extraordinary T-shirts your hallmark!
#2 Sweatshirt and hoodies
Hoodies with print is another evergreen in Print-on-Demand sale. A hoodie or a classic sweatshirt are a permanent element of casual fashion. Since the pandemic, we have all switched to tracksuits, and sports, comfy clothes have dominated not only our styles but also the collections of all fashion houses. Our offer includes not only classic sweatshirts and hoodies from popular producers of basic clothing. We also offer you high-quality all-over print sweatshirts and hoodies, which you can easily design in our 3d creator
#3 Mugs
Yes, that's right. We all love mugs with funny or inspirational quotes, just as we all love delicious coffee in the morning. A mug with a print is a great idea for a small gift for a loved one on almost any occasion – Mother's Day, Valentine's Day, the boss's birthday and so on. Take advantage of this opportunity and create original collections of on-demand mugs. In our offer you will find many different models that will diversify your assortment – e.g. a magic mug with a disappearing print.
#4 Trucker Cap
Evergreen of the streetwear. Trucker caps are popular not only among young people. They are loved by all those who appreciate timeless classics and style that will make them stand out in the crowd. Hit this target audience by offering them unique hats with unique prints that will fuel your sales.
#5 Home Decor and Accesories
Posters with unique graphics or all-over printed home textiles, like blankets, fullprint curtains or towels – definitely deserve a place in our list of bestselling on-demand products. If you create amazing paintings, you will surely find people who would like to bring a bit of your art into their homes. After all, we all like to surround ourselves with beautiful and original things.
Create and start earning money on your projects now. Explore our wide range of on-demand products and create amazing collections that will delight your customers. It's easy with us!