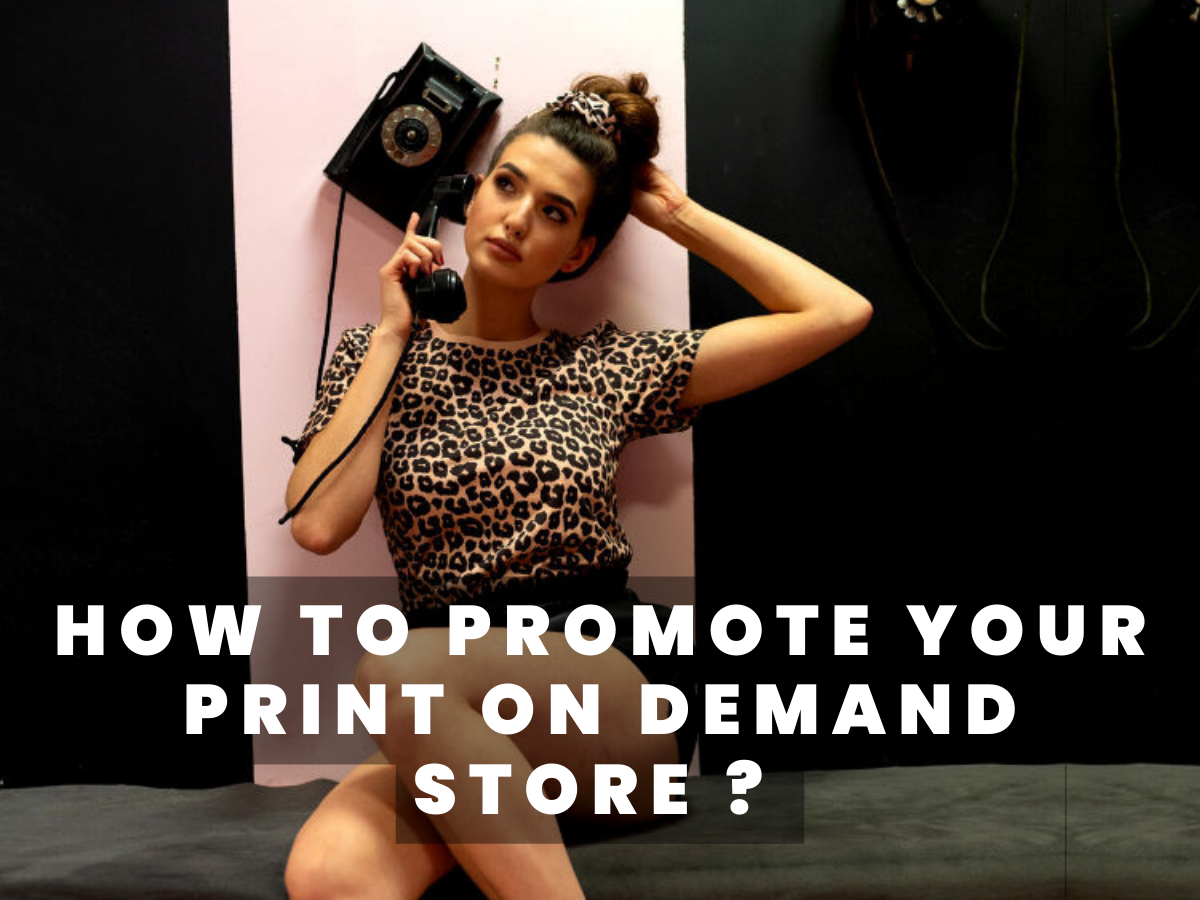 How to enhance conversion in your shop? What tools you should know when you're running your brand? How to create an effective marketing strategy? Learn how to make a success in Print on Demand in 2023.
You can create unique graphics and attractive patterns that you want to sell using the Print on Demand business model. However, you do not have the marketing knowledge that will help you achieve your sales goals. Relax, you're not alone! This article will show you how to turn your Print on Demand brand into a lucrative source of passive income.
Print on Demand: How to develop your own brand?
Print on Demand is a great idea for your own business that does not require a large investment. You don't need to stock your products in bulk. The clothes and home decor products designed by you will be produced only when someone makes an actual purchase in your store.
This is a perfect solution for your brand not only for economic reasons but also for ecological reasons. The idea of ​​sustainable development and fighting overproduction fits perfectly into the most important trend in the fashion industry for many years.
It's easy to start. Setting up your own online store and connecting to the Print on Demand platform of your choice (e.g. Snapwear.pro) is easy today and you can do it practically in one day.
But how to turn your online store with print-on-demand products into a real income-generating business? Check out our tips!
Print on Demand: How to promote your brand and start earning money by selling printed products?
• Choose your target group and get to know them
• Discover the power of social media
• Create a mailing list
• Optimize your online store
• Take advantage of positive reviews from your customers
• Invest in paid conversion sources
Print on Demand: Choose your target group and get to know them
Before you undertake any promotional activities, you need to know exactly to who you want to direct them. Start by defining your target audience and getting to know your niche.
It is also worth dividing it into segments, e.g. in terms of age, gender, education, values, and location.
When you know who your target audience is, you can create tailored marketing plans. The way you talk to a 20-year-old man who collects printed T-shirts should be different from how you talk to a 40-year-old woman who buys personalized home textiles.
When your marketing campaign seems personalized to your audience's tastes, interests, and language, they'll be more receptive to what you offer.
What else should you consider when creating personalized messages for your future customers?
You need to make it clear to them how your products will help solve their problems and meet their needs. In the language of marketing, this is called the language of benefits. For example, a T-shirt with a print is a great idea for a personalized gift for a loved one, which will show how well we know the recipient. A poster with your image will give the interior a unique character, unlike boring wall decorations from popular retail chains.
Remember that your target group may evolve, so it is worth repeating the procedure of defining the target group from time to time.
Print on Demand: Discover the power of social media
The company profile of your print-on-demand online store on social media is an absolute must-have these days. Today, they are used by more than 50% of the world's population, and in the rest, there are also, for example, children who do not belong to the commercial group. The reach of social media gives you great potential to build a community around your brand.
Which platforms to choose? Facebook, Instagram, Twitter, Tik Tok – or maybe all at once?
Remember that running social media accounts is an engaging activity that requires a lot of work, so if you do not have a specialized team of social media ninjas, it is worth focusing on the most important ones from the perspective of your business and the market on which you sell platforms.
The most important ones, i.e. those most often used by your target group. TikTok, Snapchat, and Instagram gather a statistically younger group of recipients than e.g. Facebook. In the USA, for example, Pinterest has a huge reach, as evidenced by the use of this media even in the last presidential campaign.
Despite the passage of years and many attempts to overthrow Facebook, it is still the most popular social media in many countries. However, if, for example, you want to sell your products on the Chinese market, you need to know that access to Facebook is illegal there and you should familiarize yourself with, for example, the Sina Weibo platform. If you're creating products for musicians, you need to remind yourself of the existence of a platform like MySpace. Don't forget about LinkedIn. LinkedIn is going from strength to strength and is becoming the second Facebook today as many people are allowed to use the platform while at work. Take some time to analyze where you will find the most representation
in your niche, so as not to waste your budget and energy on communicating and advertising in places where there are much fewer of them.
How do I create a profile for my print-on-demand store? Signing up on social media platforms is mostly free. If your shop name is already taken, you can add "print on demand", underscore, dash or period. Never add numbers at the end of the name, because it looks unprofessional and takes away the credibility of your brand. Also, don't use a private account. It must be a company profile.
What to post on your profile?
Try to build interesting and original content. Show how you create new graphics, inform about news and promotions, create surveys to engage customers, and check what they like. Remember the calendar of all holidays and occasions, such as Valentine's Day, Mother's Day, Black Friday, etc. Encourage people to discuss and respond to comments and opinions. This will allow you to build an engaged, loyal community of fans – that is, your potential customers. Create contests! Contests are a great trick to get more traffic to your profile.
How often should you post on social media?
The most important thing is regularity. Post at least 3 times a week to maintain brand interest and organic reach. If you post too infrequently, the algorithms may not be kind to you and may show your posts to a smaller audience.
Print on Demand: Create a mailing list
Newsletters are another way to get your messages to your customers. While your post may get lost in the crowd unnoticed, your email goes straight to the inbox of people who have visited your website and expressed their desire to receive news about the latest products and promotions in the store.
There are many platforms that offer marketing automation services that will help you not only to gather a list of contacts but also to create attractive mailing campaigns and automatic e-mails sent at a given stage of a specific customer's purchase. For example, when someone adds a product to the cart but does not complete the transaction, after a few days they may receive an automatic reminder about unfinished purchases along with a discount code encouraging them to return to the cart. Companies like MailChimp, Klaviyo, Get Response, MailerLite, Get Response, and many more offer this kind of service. If at the beginning of your business your mailing database is not large – the use of this type of platform does not have to be associated with high costs. Familiarize yourself with their offer and adjust the type of plan to your capabilities.
How often should you email your customers?
As with posting, regularity matters. Try to create a mailing once a week. More frequent e-mail messages may be perceived as SPAM and will cause many people to unsubscribe from the list of subscribers. You certainly get a lot of these types of emails yourself, so you know your customers' perspectives well.
Print on Demand: Optimize your online store
Another word from the marketing glossary that you need to know as a Print on Demand entrepreneur is SEO. SEO stands for Search Engine Optimization. This means adjusting all the content on your store's website in such a way that Google will display it high on the list of results, after entering a specific phrase into the search engine, e.g. 'gift shirt', 'printed shirt', 'printed mug', 'personalized mug', 'living room pillow', etc.
SEO, however, is not only about product descriptions expanded with key phrases. An optimized website is one that displays well on both desktop and mobile devices, loads quickly, and follows SEO best practices for good Google ranking.
You can read more about SEO for Print on Demand here:
Print on demand: Leverage positive reviews from your customers
Product reviews in your store are a very important promotion tool. Today, when the competition is huge and similar products can be bought in many different stores – people, in order to find themselves in this reality, often make their purchasing decisions based on the opinions of others. A large number of flattering opinions increases your credibility. It is natural that some opinions may be negative. Don't remove them in panic. People will notice it. It is better to respond to negative comments by encouraging you to contact us directly to solve the problem or apologize in the forum and inform us about resending the order or refund. This is how you build trust.
However, positive comments are your most important goal. After delivering the order to the customer, ask for a good opinion, e.g. by sending an email to the customer. For example, you can reward such behavior with an additional discount on subsequent purchases. Post your most enthusiastic reviews on your print-on-demand store page and use them as testimonials.
It really works! Before posting an opinion on the website, it is worth obtaining the author's consent to publish his name and surname. Such entries are more credible than anonymous ones.
Print on demand: Invest in paid conversion sources
Paid online advertising is a more advanced topic. Creating good, effective campaigns on the Internet is not easy and often requires quite specialized knowledge. We are not writing this to discourage you. You can do many things yourself, but it is worth preparing well so as not to act blindly and not to waste money on unsuccessful campaigns.
There are many free courses and tutorials on the internet today to help you create your first campaigns. For starters, you can get acquainted with, for example, the free courses offered by Google.
At the next stage – you need to demonstrate the ability to think analytically. You need to keep track of which campaigns work, which don't, and why. Perhaps it is worth changing the graphics or copy? Maybe you're aiming at too broad a target group? Maybe you should choose more complex keyword phrases. These are all things you will learn over time. The most important thing is to start!
However, if you want to succeed in Print on Demand, then you should definitely learn about tools such as:
• Retargeting – ads displayed to people who have visited your store, which means that they are potentially interested in your products
• Google Ads – ads in Google search engines
• Display ads – graphical ads displayed to users of various websites
• Social media advertising
Your budgets don't have to be big. Costs depend on the size of your target audience, competitors, and keyword popularity. If at the beginning of your print on demand business you do not have a large budget, focus on promotional activities that do not generate high costs and take care of organic traffic. Over time, you will also be able to invest in paid advertising. Remember, however, that even the most beautiful product needs a little help to be noticed. So you can't just create your artwork, add it to your store, and wait for customers to show up on their own. Be active, test different possibilities, and draw conclusions. You will see that your actions will bear fruit!